.
---
Revolución / Revolution
Cambia Tu Vida / Change Your Life
Vivir Es Nacer Paso A Paso / Life Is Born Step By Step
My two bits worth on Ricky Martin's coming out recently, him (at this particular moment in time) re-distributing 'My Skin Talks' - the promo video for the Black and White tour in which he can be seen performing nude - and some hairy chested pics (very hard to find) from the concert in Viña del Mar for that same tour in 2007. Enjoy!
---
A few days ago Ricky Martin tweeted a promotional video 'My Skin Talks' (directed by Dago Gonzales and originally made for the 2007 Black and White tour) to his followers. The video features him nude on a glass floor and a completely black backdrop, which makes for some great shots. All through the video we see evolving digital tattoos across his body, building on the existing ones, forming various patterns, symbols and texts: 'change your life', 'find yourself', 'forgive'.

In 1995 Ricky released the album 'A Medio Vivir' (Living Half) (the album was reissued in 2002 as 'Colección de Oro'). This album contains a song called 'Revolución', credited to Ian Blake, K.C. Porter and Luis Gómez Escolar. For this song a video clip was made (I'm not sure when, in 1995, in 2002 or even later) featuring ..... evolving digital tattoos across a whitish backdrop forming various pattens, symbols and texts ... you get the message.

Have a look for yourself (if you already haven't seen them):

First 'Revolución'

A rocky pop song, quite befitting a worldly revolution really. Carrying big loud banners, writing messages on walls, ready to do battle. Ready to force loved ones out of their prison. Battling to set them free. All set up to tackle the issue once and for all. Get this revolution going: CHANGE YOUR LIVES!

Next 'My Skin Talks'

Much softer. Ethereal even but profound as well. Here is the battle. No loud banners, no messages on walls. Rather whispers from the soul, wishes from the heart. Ready to be born out of your prison. Struggling to set yourself free. All set up to solve the issue when you are good and ready to do so. Carrying the full change your life weight on your back. Until your heart and soul realize: Life Is Born Paso A Paso.

Revolución / Revolution
Cambia Tu Vida / Change Your Life
Vivir Es Nacer Paso A Paso / Life Is Born Step By Step
What the hell has this got to do with Ricky coming out you may well ask.
Well my friends, I think this is not revolution, this is evolution. Evolution at its artistic peak. Just like you and me Ricky Martin has had to make his life journey. In his case all in the public eye, with all the extra pressure that brings with it. But you know what? I think he's been sharing bits of his journey with us all along. I think he's been putting key elements of his struggles into his performances. Too much coincidence for my taste. Signals only to be picked up by those with a discerning eye. Not really meant to be picked up - at the time - by the public at large.
How many of these signals did we put out on our own journey, only to be understood by very few people, unless they were mind readers. How much more explicit could we expect his message(s) to be?
On our journeys we were able to take our own sweet time and we need to allow him his. We cannot will someone to come out until they are strong enough, until they feel it is right, until they feel they want to, until they trust they can. We only can help create - everyone of us in his own small way - the environment that will make it possible and comfortable for them to do so.
What should concern us at this particular moment in time is not why the fuck he did not come out earlier, we should rather be rejoicing in the fact that he got there in the end. Paso a paso. We should cut all the brouhaha and just be happy for the man.

And that is exactly what I am: happy for Ricky and his loved one(s), his children, his family and his friends. I wish him all the love in the world, a hunk that keeps him fulfilled, prospering happy children and a huge follow up career as a happy out gay man. With lots of sexy songs and video's. If only he would leave the razor alone .... And oh eh Ricky are you sure you don't want to take Raging Stallion up on their offer?
Bummer. Sorry, can't blame a man for wishing can you?

On that note: here are some images from the 2007 Black and White tour concert in Viña del Mar, Chile. Enjoy! And please do not expect me to ramble on like this every single post. Not even every other post. Probably not ever again. But then again ... paso a paso ...

This is Ricky:
knowing he is going to but still asking him: you really think I should?
doubting and second guessing himself: can I?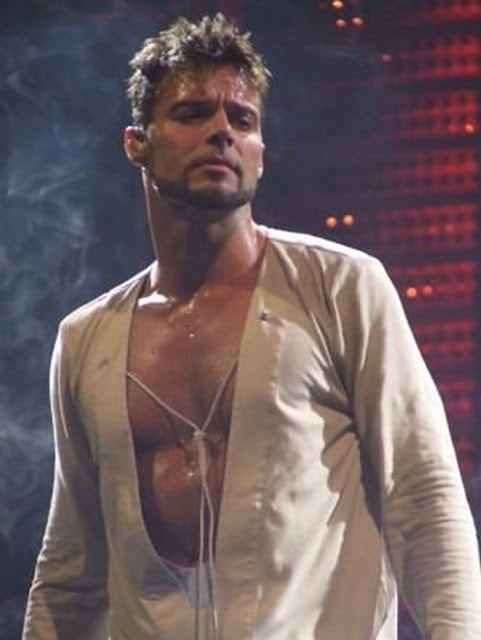 affirming his determination: Yes I can!
feeling the joy of having hatched the plan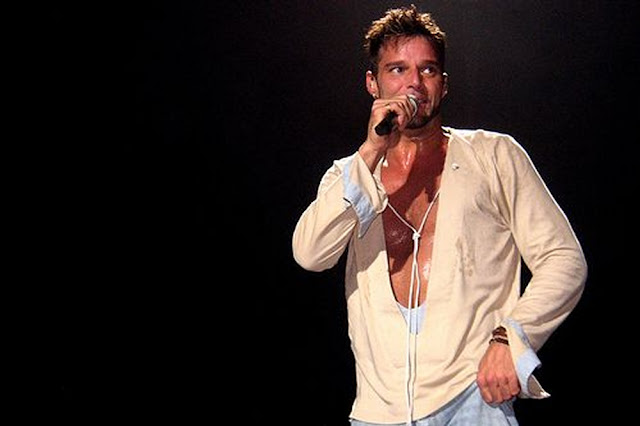 not quite believing he's going to in a minute
after he tweetered his outing to the world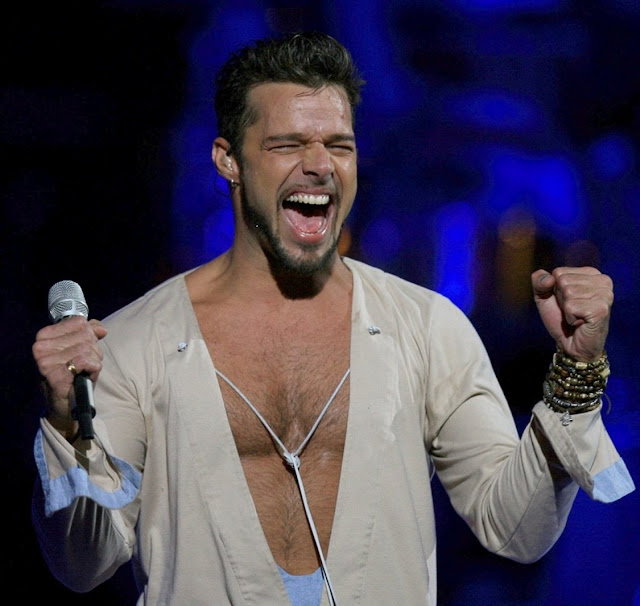 reacting to the way we received his message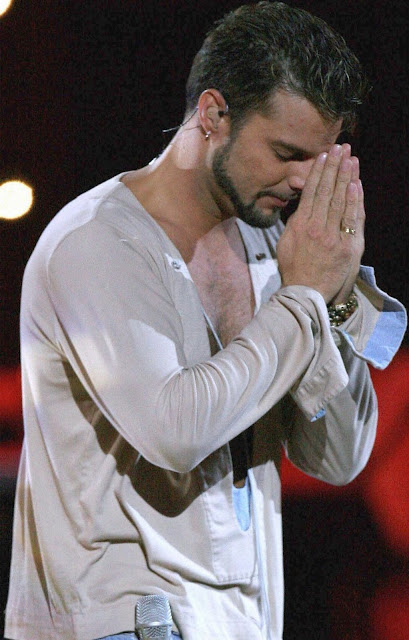 celebrating the rest of his career
LOL
---